NOYAFA
Regular price
$80.00
Sale price
$68.58
Unit price
per
Sale
Sold out
Differences Between NF-822 vs 820 vs 826
Features
Wide Range of Detection - The detection range can reach a maximum depth of 0.5m, and the cable length can reach 1000m for the scan model. Tracing cables between 0 - 250 volts AC is possible with this device.

Find Hidden Cables Easily - The anti-jamming and adjustable probe of this cable tracer help you locate hidden wires or pipes inside the ceiling or wall.

Signal Prompt - Adjust the sensitivity dial based on the strength of the real-time signal light and the speaker's volume to locate the cable more accurately.

Multipurpose - The alligator clip and socket can be used at the same time.

Rechargeable - The emitter comes with a large capacity 3.7V lithium battery.
What 's in the box - Emitter(battery included) *1, Receiver(battery not included) *1, Adapter *1, USB cable *1, Earphone *1
Quick Details

Model Number: NF-822
Depth range: 0.5m
Max cable length: 1000m
Working voltage range: 0~220V
Trace underground cable: Yes
Sensitivity adjustable: : Yes
Probe length adjustable: Yes
Socket for high voltage wire: Yes
Display screen: NO
Check polairty: No
Cable lead: Good
Power supply for transmitter : Li-battery
Power supply for Receiver: Li-battery
Q&A

1. Why is there a big error when I test a 5-meter-long network cable?

The measured network cable must be longer than 10 meters. If the error is large, it can be calibrated and then tested

2. Is there any noise while hunting?

No. Using digital signal technology, the 858C produces no noise.

3. What kinds of hunting modes are there?

Two types: normal hunt mode, POE hunt mode

4. Can the 858C measure the telephone line status?

Yes, it can

5. Is the 858C capable of measuring POE?

Yes, it can

6. Is the 858C capable of testing for crosstalk?

Yes, it can

7. How to use 858C with 4 ports?

During the test, the screen will display the remote's number. It can improve work efficiency if there are many wires to be wired on site
View full details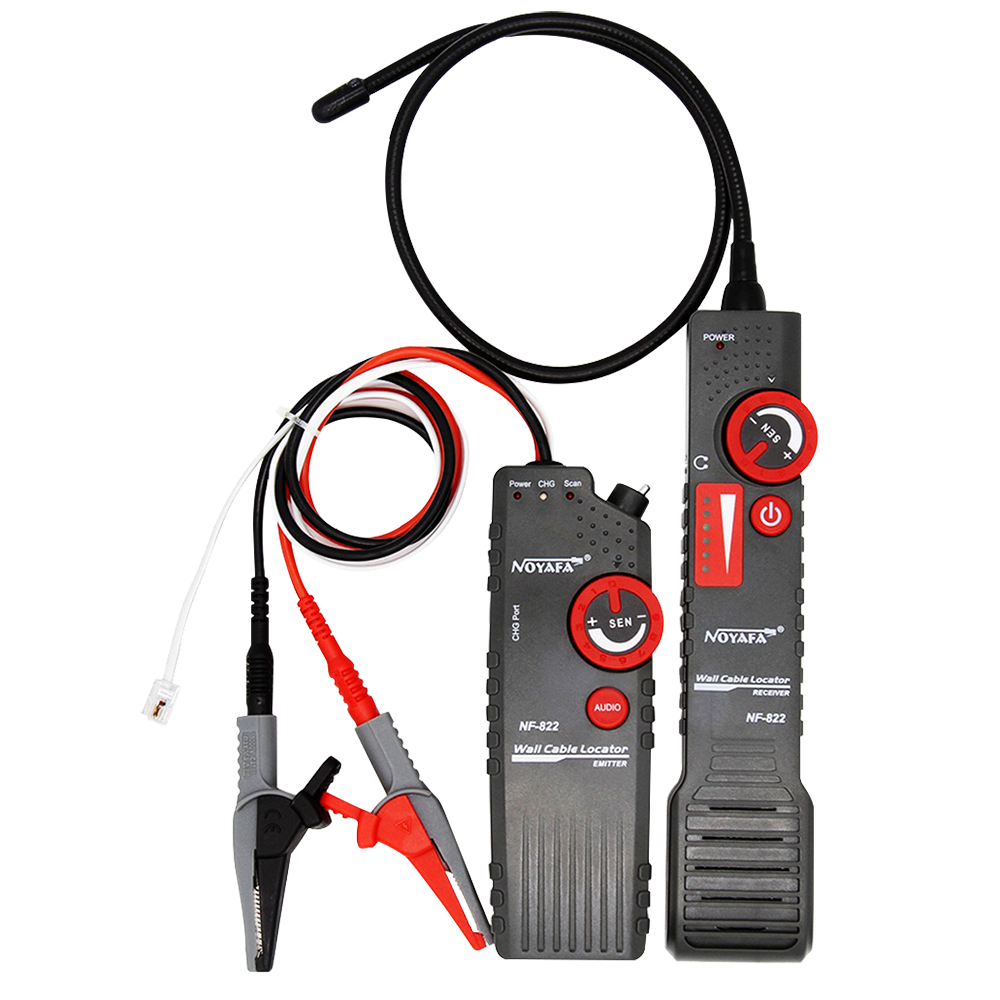 Differences Between Noyafa NF-822 vs 820 vs 826 Underground Cable Locator
| | | |
| --- | --- | --- |
| NF-822 | NF-820 |  NF-826 |
| $57.11 | $68.58 | $128.99 |
| 20'' detection depth | 79'' detection depth | 98'' detection depth |
| > 3,280ft cable length | > 3,280ft cable length | > 3,280ft cable length |
| ❌ LCD display | ❌ LCD display | ✔️ LCD display |
| ✔️ Sensitivity adjust | ✔️ Sensitivity adjust | ✔️ Sensitivity adjust |
| ✔️ Voltage detecting | ✔️ Voltage detecting | ✔️ Voltage detecting |
| ✔️ Probe length adjust | ✔️ Probe length adjust | ✔️ Probe length adjust |
| 🛒 Buy It Now | 🛒 Buy It Now | 🛒 Buy It Now |