NOYAFA
Regular price
Sale price
$128.99
Unit price
per
Sale
Sold out
Features & Benefits
Find Any Underground Wires or Cables.

Easily

locates and tracks any wires, cables, and pipelines buried in the ground or wall, including electrical wires, invisible fence, power cables, fiber optic cables, twisted pair cables, coaxial cables, water/gas supply pipelines, etc., and determines the depth of a traced wire.


Locates Underground Wire Faults. Detects and locates the short-circuit point or breakpoint in cables and electrical lines buried in the ground or wall quickly and accurately.


Fuse Detection. Detects the air switch or leakage switch fuse which corresponds to an electrical circuit, and assigns current circuits.


Socket Detection. Detects sockets and distribution sockets that are covered accidentally by plastering.


LCD Display

.

Both transmitter and receiver have a 52*35mmTN screen with backlight to display the detecting info like power level, code, battery, detected voltage type and value, and high-voltage alert.


Sensitivity Adjustment. Use high sensitivity to quickly locate the approximate position, and then lower the sensitivity to accurately locate the target position.?


Voltage Testing. The transmitter can be used as an AC / DC voltmeter to measure AC / DC voltage up to 400V on a line basis.


Non-Contact Voltage (NCV) Detection. The receiver has a built-in NCV detector which allows for quick detection of live voltage.


LED Lighting. The receiver comes with a LED light for easy operation at night or in a dark environment.


Dimension and Weight. The NF826 transmitter is 156mm long, 80mm wide, and 32mm thick, and weighs 235g with battery, and the receiver is 226mm long, 73mm wide, and 29mm thick, and weighs 235g with battery. It??£¤s easy to carry and store.


What's In The Box:

Transmitter * 1, Receiver * 1, Connecting wire *1,T est pen *1, Ground rod, Alligator clip * 1, USB cable *1, Carry bag *1, User Manual *1
Quick Details

Model Number: NF-826
Depth Range: 2m
Voltage Detecting: Yes
Max Cable Length: 1,000m
Working Voltage Range: 0 - 400V
Sensitivity Adjustment: Various Modes
Power Supply: LI-battery
Signals & Result Display: Tone & LCD
Q&A

Question: How to wire the NF-826 when using it to look for a buried cable's direction?
Answer: Make the red alligator clip clamp the target wire, and the black alligator clip connected to the ground, and set the transmitter to gear 3.

Question: Can the NF-826 trace a live wire? What's the maximum voltage it test?
Answer: Yes, and the maximum voltage it can measure is 400V

Question: Will this detect underground pet fence?
Answer: Yes.

Question: Can the NF-826 detect the protective earth (PE) metal water pipelines buried in the ground?
Answer: No. The metal pipes you're going to detect can not come with protective earthing and there should be a large resistance between it and the soil. (the small the resistance, the short the detection distance).
Question: How deep can the NF-826 detect?
Answer: 0 - 0.5 meters in Bipolar application, 0 - 1 meters in unipolar application, and the single loop can reach 2.5 meters.


Question: Can it detect underground power line 120/220 vac to the house from the main road?
Answer: Yes.

Question: Can the NF-826 find the breakpoint of the armored cable? How abou the direction?
Answer: No, because the armor isolates the signal, it is difficult to find the breakpoint of such cables. It's ok to trace the armored wire in a short distance.


View full details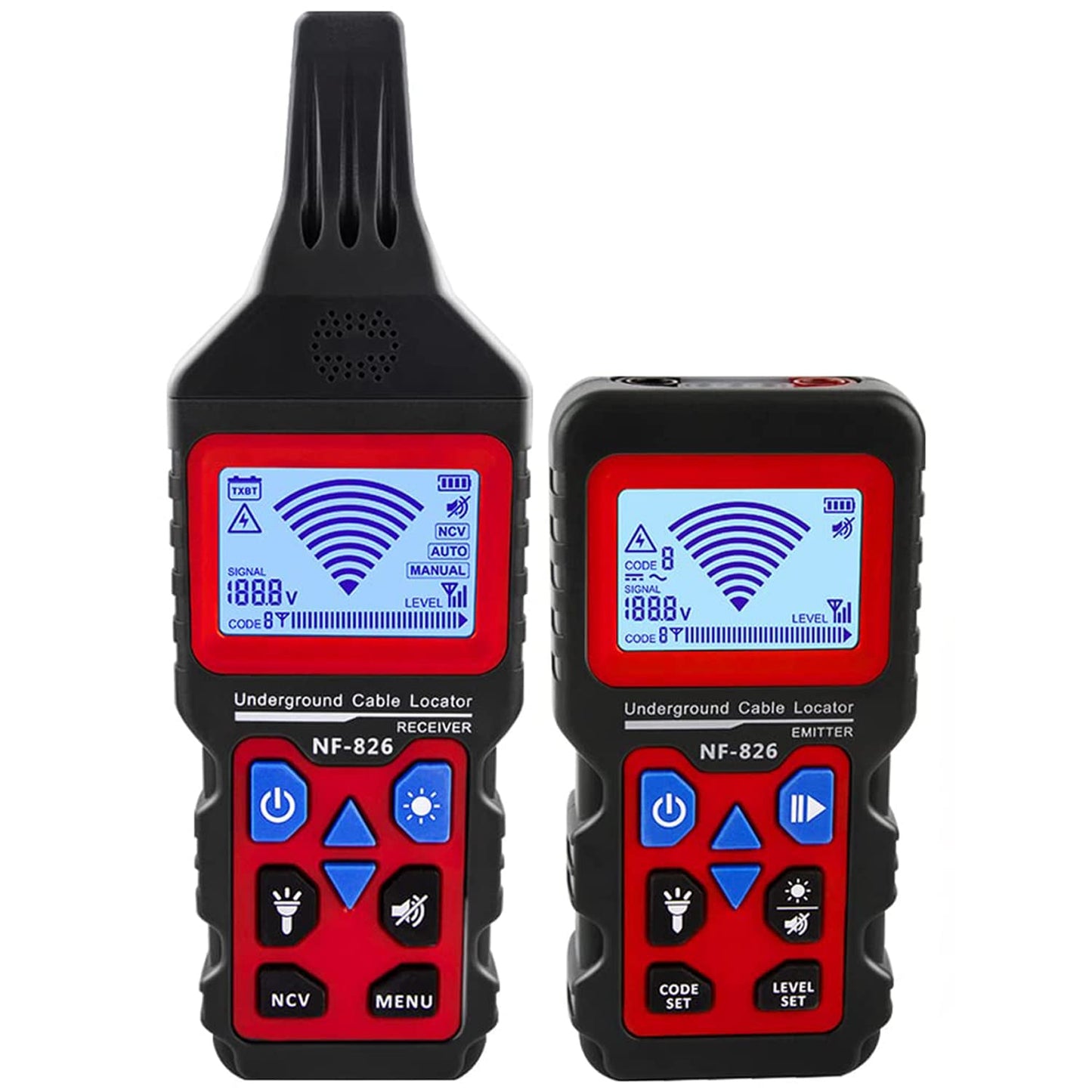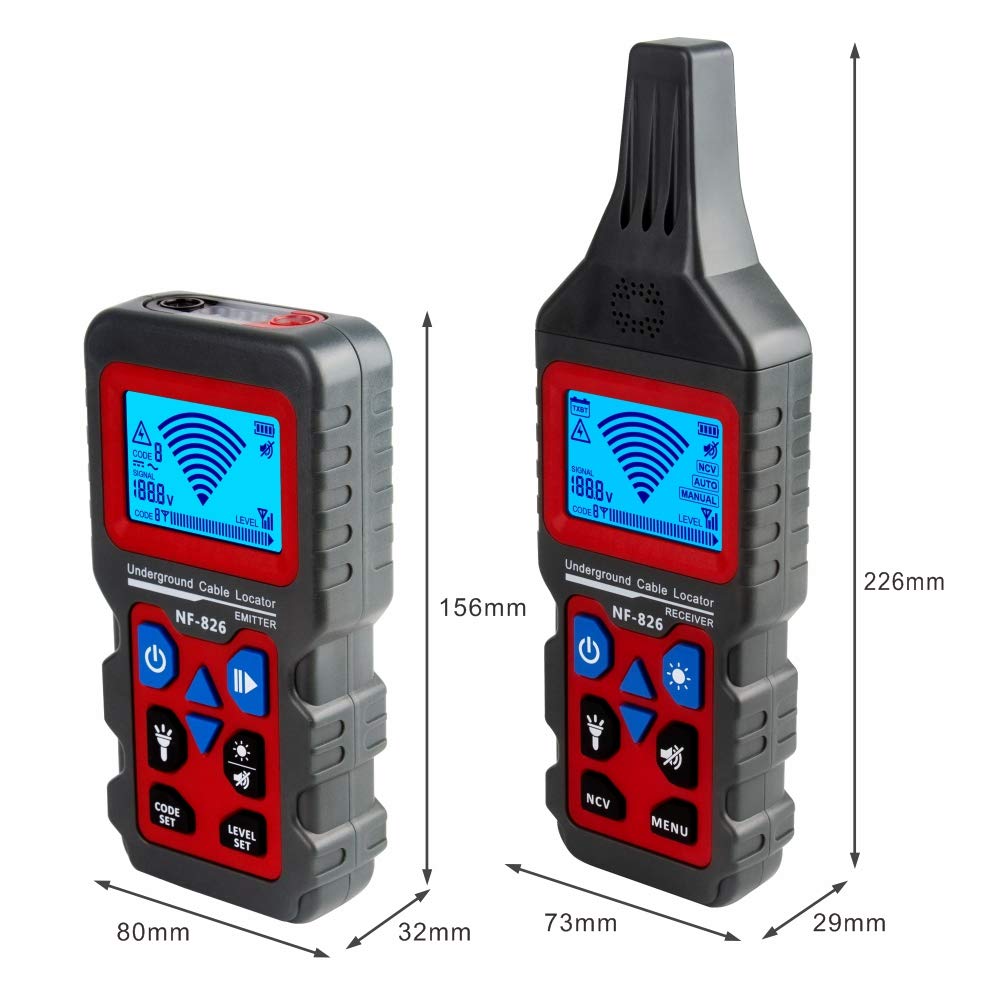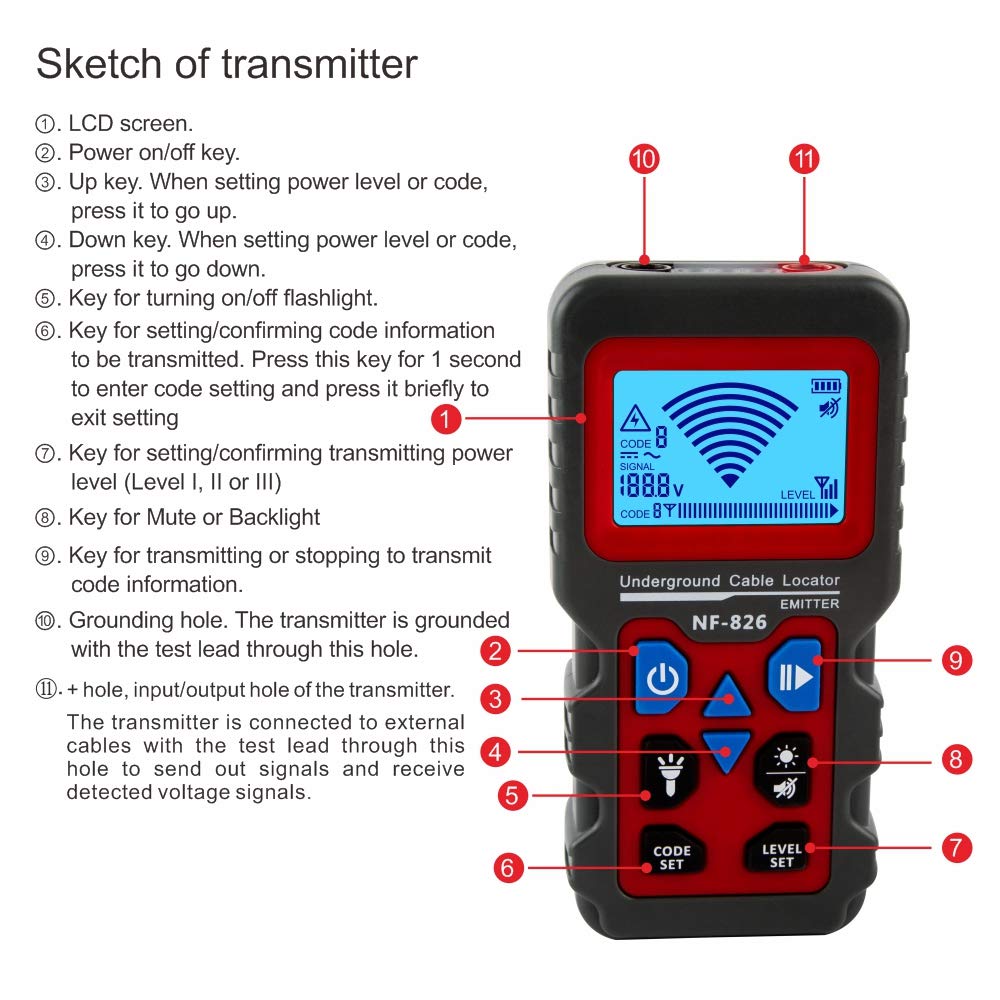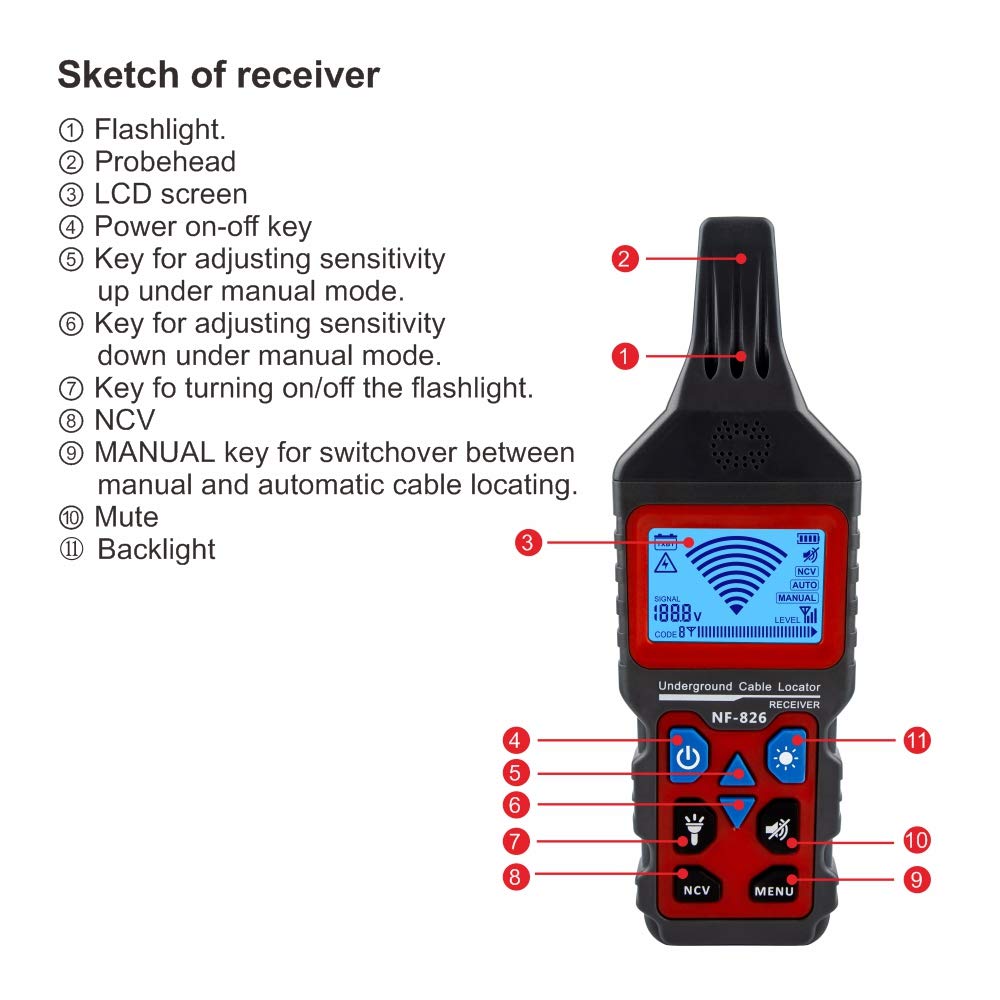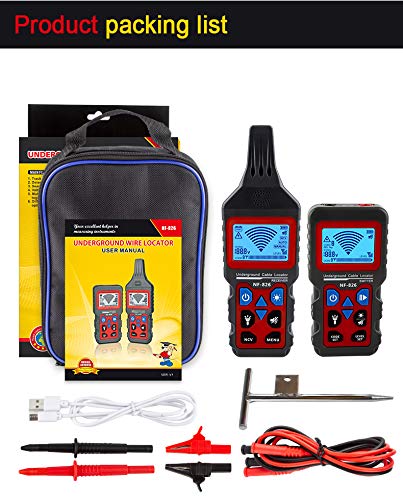 Has not arrived yet
The devices have not arrived to me yet.
Good functional product / Bon produit fonctionnel
Functional product without complexity of implementation.
The first line detector I've been satisfied with.
Reliability over time remains to be assessed.
Good value for money placement.
Produit fonctionnel sans complexité de mise en œuvre.
Le premier détecteur de ligne dont je suis satisfait.
Il reste à évaluer la fiabilité dans le temps.
Bon placement de rapport qualité/prix.
Works great
It works great. Very easy to use
Fantastic Tool
Dude, this thing is a lifesaver! We've saved so much cash thanks to it. We've already used it twice to track down wire breaks on our farm, and it's seriously a miracle.
Works As Description
I used this tool to locate a broken wire in my underground dog fence, and it did the job perfectly. It only took me a few minutes to learn how to use it correctly, and I was able to track down the break within a 5-inch range of digging. Without this tool, I would have never been able to find the break. It's definitely worth the money!